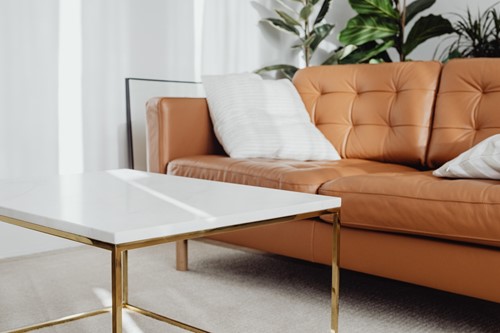 A classic leather sofa or armchair make the perfect addition to many styles of living room. With leather furniture, you can create depth and contrast while working with almost any color scheme.
Whether you prefer traditional, rustic or ultra-modern interior decor, there are plenty of ways to incorporate leather furniture into your living room. Here are some expert design tips to inspire you:
Mix & match textures
One key to decorating with leather furniture is to strike a balance between textures. An overabundance of leather, particularly in polished finishes, can make rooms seem cold or hyper-formal.
Likewise, a room with too many rustic leather pieces can add too much weight to the design aesthetic.
To find the right balance, mix and match your textures, finishes and materials. Combine plush, knit throw blankets and cozy area rugs to soften the formality of a sleek leather sofa.
Try dressing up a rustic leather armchair with a luxurious velvet throw pillow, or grounding a dark leather sofa with macramé wall hangings.
Think beyond neutral tones
Brown leather sofas are often what come to mind when thinking about leather furniture. While there are many brown leather couches in a wide variety of styles, sizes and shades, there is a plethora of color choices beyond brown.
If you want a bold take on the leather sofa, consider a minimalist leather sectional in a vibrant primary color like red or yellow. Add some vintage flair with a rich turquoise leather bench or a wine-colored chair with metallic accents.
Neutral leather tones are abundant and simple to implement in a space, but the myriad options of pigmented leather furniture available make excellent additions to a wide range of styles.
Cozy up on a brown leather couch in front of a traditional stone fireplace, or add an exciting pop of whimsy to a formal living room with a jewel-toned leather armchair. With the right balance of decor, you can effortlessly introduce leather into your living room design.