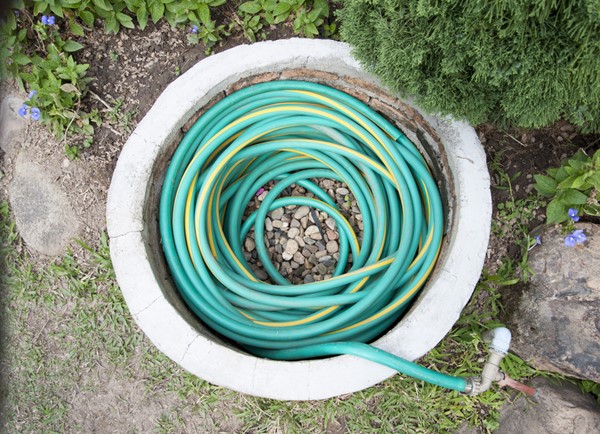 Everyone had something ugly in their yard that they want to hide. For many, it's the oversized trash bins that don't really fit in the garage but are big and distracting when left out. Others may have utility boxes that mar your lovely landscaping. In some cases, it's lawn equipment or gardening tools that don't have a place you can tuck them away.
Here are some ideas of ways to hide your ugly stuff and beautify your home.
Trash Bins
If your oversized cans must be outdoors, create a trellis enclosure to surround them. Place pots with climbing plants such as ivy and trumpet vine along the sides so that they grow up and over the trash cans. However, remember to leave enough space for you to open the lids conveniently.
Another option for trash bins is to make a raised planter box that rises above the cans. Plant bright annuals, vegetables, or succulents in the box.
Utility boxes
To cover a utility box, vent pipe, or other smaller eyesore, purchase a faux stone or cluster of rocks to set on the street-side of it. Surround it with flowering plants or small bushes to give it a more pleasing look.
Disguise utility boxes with raised beds and fill them with taller perennials such as Iris or Agapanthus. The beautiful blooms distract from the ugly utility boxes and hide them in plain sight.
Tools
When a full toolshed is not an option, hide your tools in a patio chest. These chests double as extra seating for entertaining and can even hold a small lawnmower if necessary.Or, create a hideaway cabinet under the deck landing. Just wrap the area with siding to match the deck, add access doors and voila, your tools are hidden in an area that looks like it was meant to be there.
Fireplace Logs
When you have a wood-burning fireplace but don't know where to store the logs, build a bench seat similar to a crate and stack the wood under it. Use the bench for extra seating or as a display shelf for your favorite potted plants.
Use two pillars of your patio cover to stack the logs between, but place lattice on the patio side to hide the wood. Hang planters from the trellis to create a walled garden to bring cheery greenery to your patio area while hiding the logs.
Hoses
Hide your hose in a lovely pot situated near to the faucet. Most garden centers and DIY hardware stores offer choices specially designed to keep unruly hoses in check.
Whatever the problem area, you can find a way to keep it hidden from view with a little ingenuity and effort. Doing so improves your home's curb appeal and increases your enjoyment of your outdoor living space.